Lexus was ranked the most reliable brand in the US according to the J.D. Power 2019 U.S. Vehicle Dependability Study (VDS).  Porsche, Toyota, Chevrolet, and Buick rounded out the Top 5.  Notably, this is the eighth consecutive year Lexus has stayed at the top of the dependability rankings.
J.D Power surveyed 32,952 original owners of 2016 model-year vehicles after three years of ownership. The study measured vehicle problems across 177 areas grouped into 8 major vehicle categories. The survey measured the number of problems per hundred vehicles (PP100) during the last 12 months by original owners of three-year-old vehicles. Lower the score, the more reliable the vehicle.
Overall, the dependability of vehicles improved 6 PP100 over 2018 numbers, a lower rate of improvement compared to prior years.  In 2018, dependability improved 14 PP100 compared to 2017.
Chrysler was the most improved brand with a reduction of 65 PP100 since 2018.  MINI and Subaru also showed substantial improvements year over year.
Vehicles with strong dependability scores retain their values better.  This bodes well for the used-vehicle market where these vehicles will be in high demand.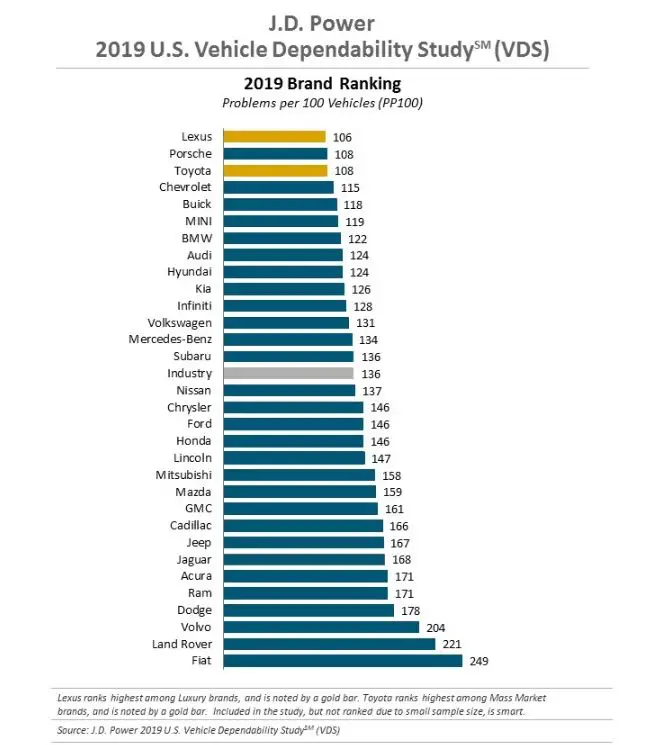 Fiat, Land Rover, Volvo, Dodge, and Ram came in with the worst dependability ratings.  Luxury brand Acura was also close to the bottom of the pack, whereas its parent Company Honda ranked below the median of US carmakers.
The survey revealed that while dependability increased in 2019, automakers are struggling with issues related to voice recognition, transmission shifts, and battery failures. But the good news for consumers is that dependability continues to increase.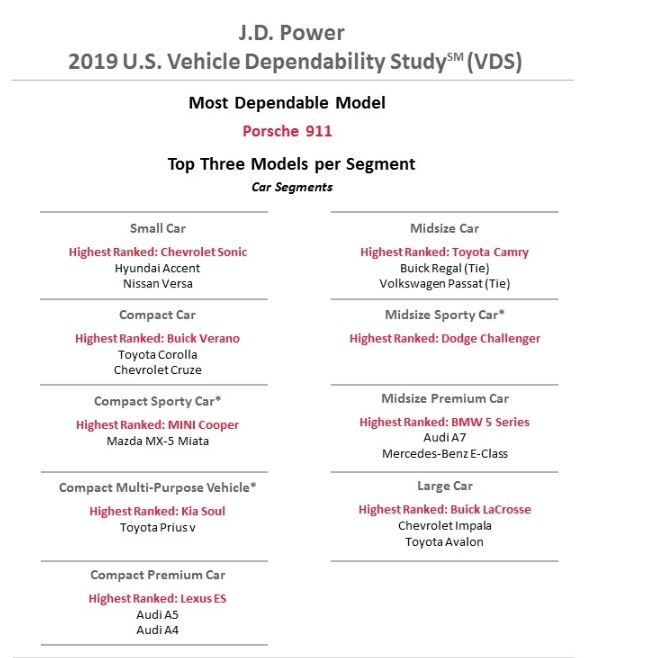 Toyota Camry topped the mid-size car category, and the BMW 5 series took the top spot in the mid-size premium category.  Volkswagen ranked first among small SUVs.